Everyone who does indulge in the business world is least likely to be unaware of the importance of brand awareness. We observe and notice plenty of brands every day, of which some may stride straight ahead to your brain as your favorites, and some may not. A brand should stand unique and magnificent to pass this automatic filtration process from viewers and to strike their attention. Making people recognize your brand name can be defined as brand awareness. A landing page is the entry point to your website for those who follow your ads or posts from any internet platform. The best landing pages can bag the goals of high conversion rate, brand exposure marketing, and brand recognition. 
BRAND AWARENESS
Any concept, service, or product that is esteemed publicly from other similar things so that it can be easily identified, marketed, and communicated is called a brand. Branding is the process of manufacturing and dispersing the brand name, its peculiarities, merits, and whole personality. Brand awareness is referred to as the friendliness of purchasers with a product or service. A familiar brand can increase website traffic enormously. Companies spend millions of dollars on brand awareness campaigns because they know that it is the first step in systematically influencing the resolutions of customers. From our buying experience, we understand that the preferences go to known brands rather than unknown ones. Hence, to run your business successfully, you must consider dispersing your brand name to the maximum possible frontiers through an effective branding strategy.        
Branding strategy or brand development strategy is the durable action plan to acquire long-term goals which eventually result in brand recognition and preference by consumers. In simple terms, brand recognition is buyers' ability to recognize a company's characteristics separately from its competitors.
LANDING PAGE
In digital marketing, a standalone web page, which is specifically created for advertising or marketing campaigns, is called a landing page. It does act as a welcome page or landing zone for a visitor as they click on a link in social media platforms or other internet spaces. Standard web pages typically have many goals and objectives. Meanwhile, landing pages are designed with a single aim called 'call to action' (CTA). Landing pages are considered crucial for brand exposure marketing because they can achieve high conversion rates. It is a further step about a visitor converting to a customer. A landing page functions as a platform for making trades, offering information and special offers as they collect the contact information (leads) that a visitor provides. 
LANDING PAGE OPTIMIZATION TO BOOST BRAND AWARENESS
Landing Page Optimization(LPO) is the process of enhancing the strands on a website to boost conversions. It can be considered a subset of Conversion Rate Optimization(CRO). Conversion-optimized landing pages are capable of bagging consumers and hence expanding your business. Lead generation landing pages will capture the contact information of your website visitors. There are some practical ways to optimize your landing page for brand awareness. Such as;
Brand awareness-focused landing pages are a suitable space to share the idea of what your company is all about. You can share the company's story to catch visitors' attention and generate leads. The landing page allows you to share what you have in hand from your and your customers' perspectives. You can also add social proof like testimonials and social media posts to show that you have real customers ready to propagate your brand with first-hand experience.
Focusing on the top of your conversion funnel: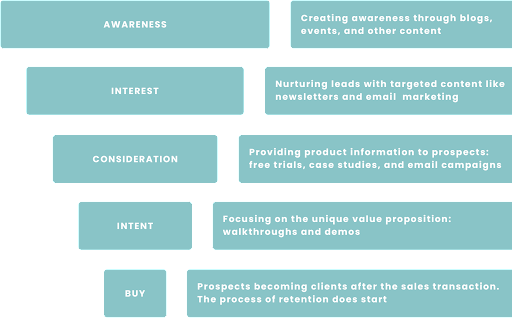 This picture does show how a conversion funnel works. Buying is the final part, where every company wishes to drag the people. But focusing on selling immediately on a brand awareness-focused landing page will cause you to lose people's interest. Landing pages should always target people at the opening of your conversion funnel. People are at this opening when they visit your landing page. Imposing your selling packages there will get them confused. Optimize your landing page focused on brand awareness. And at the end, instead of asking for a purchase, share some free resources to download as a low-commitment call to action. 
Allowing visitors to try out your product or service:
The best introduction you can provide for your brand is the hands-on experience with your service or product. Let the people experience what you offer. While you share a free trial or demo with potential customers, make the requirements, like filling up forms, as simple as possible.
Analyzing all these elements, we can conclude that landing page optimization does play an essential role in brand awareness. You can successfully optimize the landing pages through the following landing page optimization tactics or tips that can benefit your business for sure. 
Landing page optimization tactics:
*Make your landing page simple and short. Test all links and other elements again and again before going live. 
*Prefer white space and keep the layout simple.
*Make the call to action clear and free of ambiguity. 
*Develop relevant copies capable of connecting to potential customers. 
*Use optimized forms to collect information/leads.
*Include visual media, videos, and images to catch the attention.
*Reduce page loading time.
*Use contrasting colors.