A company can use QuickBooks Desktop to track money and business activities through forms and lists. To create transactions, these forms must be filled out. Using double-entry bookkeeping, transactions are accounted for and fed into the general ledger. There are resources available through QuickBooks Desktop API that are parallel to the forms and lists in QuickBooks Desktop.
There are at least two accounts involved in every transaction in double-entry bookkeeping. A company's cash account increases when it sells a product, while its Inventory Asset account decreases.
As part of setting up their financial records, a company creates a chart of accounts. When two or more accounts are selected for entry into the general ledger, the chart of accounts is used as a point of reference. Similarly, the QuickBooks Desktop API automatically maintains the general ledger on your behalf by using transactions such as invoices, bills, and so on.
Business owners and accountants choose QuickBooks Desktop because it is locally installed software. The QuickBooks Desktop software is available in three versions: Pro, Premier, and Enterprise. A small business can use Pro, a medium business can use Premier, and a large business can use Enterprise. Each plan progresses based on the number of features and users available.
With QuickBooks desktop software, business owners can track expenses, prepare budgets, and estimate jobs. QuickBooks has over 240 integrations and is highly rated by customers. It is important to note that QuickBooks Desktop can only be installed on Windows computers. If you want a locally-installed version of QuickBooks for Mac, you'll have to check out QuickBooks for Mac.
Pros
Strong features

Traditional form of accounting

Reported in an advanced manner

A potential security advantage

240+ integrations
Cons
Compatible only with Windows.

Lesser Customer support

Expensive

Fewer automation features than QBO
FEATURES ONLY AVAILABLE ON QUICKBOOKS DESKTOP
A format that can be installed locally

Sales orders

Reports from 50 additional sources

Optional industry-specific features

Optional industry specific-reporting
It has both accrual and cash-basis accounting and is based on dual-entry accounting principles. Each provides detailed charts of accounts, journal entries, bank reconciliations, accounts payables, accounts receivables, and the basic reports needed to run a business. Accounting is more complex with QuickBooks Desktop, but the reporting is better.
It's possible to set recurring invoices, send payment reminders, send batch invoices, and track invoices with QuickBooks Desktop.
Specific features for the industry
The QuickBooks Desktop Premier and QuickBooks Desktop Enterprise software have the unique feature of allowing you to choose an industry-specific version instead of the standard version. The following industries fall into this category:
General contractor

Accountant

Professional services

Retail

Manufacturing and wholesale

Nonprofit
A business owner with one of these versions will be able to access more features and reports tailored to their industry.
Most users still view Quickbooks Desktop favorably, and the product receives high marks on most customer review sites. The software receives 4.3/5 (based on 1,300+ reviews) on Software Advice and 8.3/10 (based on 700+ reviews) on TrustRadius.
YOU SHOULD CHOOSE QUICKBOOKS DESKTOP IF…
You want locally-installed software accounting software

You need the industry-specific features of QuickBooks Premier or QuickBooks Enterprise

You need sales orders

You have very complex accounting
With QuickBooks Desktop, users receive some of the most developed accounting tools on the market. The software offers comprehensive features, unique touches (such as lead management and sales orders), industry-specific versions of software, and the potential to be more secure.
Find out how to Install and Integrate QuickBooks Desktop.
Follow these steps to install QuickBooks Desktop once you have downloaded it. No matter how many times you install it, these steps remain the same.
Step 1: Set up the installation
Check the system requirements on your computer.

If you have not already downloaded QuickBooks Desktop, you should do so right away. The file should be saved somewhere you will be able to find it easily (such as your Windows desktop).

Make sure you have your license number and product number on hand.

Step 2: Launch QuickBooks Desktop
Click on QuickBooks.exe to open it.

Follow the instructions on the screen. Select Next after accepting the software license agreement.

Type in your Product and License numbers. Select Next.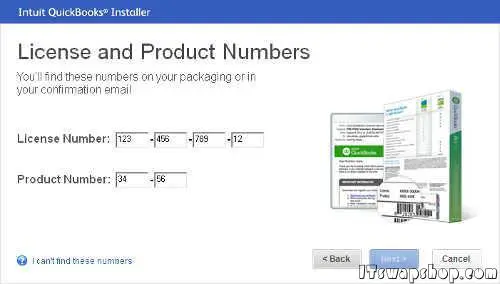 Choose the right type of installation
If you want to install QuickBooks, you can choose between the express installation and the custom and network installation.
Express install
If you fall into the following categories, we recommend an express:
Using the service for the first time

The process of reinstalling QuickBooks.

A single computer will be used to run QuickBooks (not as part of a network).
Steps:
Select Express and then click Next.

Click on Install.

Select Open QuickBooks when it finishes.
Custom and Network install
If you meet the following criteria, we recommend a custom installation:
You can install QuickBooks in a different location (such as on a server) than the default location.

Using a server to host your company's files.

Networking for multiple users.
Steps
Choose Custom and Network Options, then click Next.
QuickBooks should be selected based on how you plan to use them.
The next screen will allow you to change the location of the installation.

You can choose where to put your QuickBooks folder by selecting Browse. Most people place it in their Programs folder.

To begin the installation, select Next.

Select Open QuickBooks after it has finished.
Step 3: Activating QuickBooks Desktop
It is important to activate the QuickBooks desktop once you have successfully installed it. You can activate QuickBooks manually by following these steps, or QuickBooks will prompt you to do so.
Press F2 on your keyboard to open your QuickBooks desktop.

Choose Activate QuickBooks desktop from the Help menu

You can check the registration status and license number by opening the product information window. 
○  As long as the status shows Activated, you are good to go. 
○  When the status shows that the product is not activated, click on the OK tab to close the window displaying the product information. 
Select the Activate QuickBooks tab from the Help menu.
Features and Benefits of Quickbook Desktop Integration
You can automatically export your Orders, Products & Customers data to QuickBooks Desktop. If you prefer, you can set your data sync to automatic mode or do it manually at your convenience.
Any app that you are integrating with will sync orders as they are in the account. Once the payment is received, it is synced with the app. QuickBooks Desktop will update the payment if it is received later. Refunds and cancellations are also synced appropriately.
The app syncs orders to QuickBooks Desktop along with the associated products just as it does in any e-commerce platform like Shopify.
QuickBooks allows you to create individual customers for all the E-commerce or Shopify customers and use them for order sync or you can create a dummy customer and sync all orders effortlessly.
Your QuickBooks Desktop file will even be synced with Tax lines and Shipping line items, making it easy to stay up to date.
MultiCurrency Integration
The integration of multiple currencies is also supported. The app will correctly sync data based on the currencies if your Store is in one currency and your QuickBooks Desktop file is in another.
Integrate multiple Shopify and Apps into one QuickBooks desktop file
Your QuickBooks Desktop file can be integrated with more than one Shopify store with QuickBooks Bridge for Desktop. This eliminates the need to manage multiple QuickBooks Desktop files for each store. There is a subscription fee for each store (needs an app subscription)
Added features
Shopify's inventory synchronization tool allows you to sync quantities between QuickBooks and Shopify.

A UOM mapping will allow you to match Shopify's item name with the relevant UOM when creating an invoice

Support for bundle/assembly products in QuickBooks, allowing you to map Shopify products directly to Bundles/Assemblies in QuickBooks rather than creating a dummy invoice

The Inventory Site Mapping feature in QuickBooks allows you to send specific orders to the relevant Warehouse/Inventory site based on a set of parameters.
How to do Quickbook Desktop Integration to Company Inventory
Here are two ways to integrate your app with QuickBooks company inventory, depending on how your app manages inventory and QuickBooks Desktop's level of support:
If QuickBooks Desktop provides inventory management support to your requirements, use its native inventory accounting features.

You can manage inventory items entirely within your app and sync inventory accounting transactions with QuickBooks Desktop if QuickBooks Desktop inventory management does not satisfy your needs.
If you have any queries regarding Quickbooks Desktop Integration or how it will benefit your organization, feel free to contact our QB Experts. We assure you the best Quickbook Integration services fit for every business!